Feel Good and Look Fab!
Be the fantastic person you are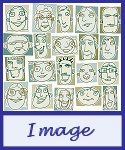 This fun, enlightening and thought provoking event will change the way you see yourself and your wardrobe forever.
Not a member?
Why not sign up now – Membership is free.
---
Contact us to register for multiple different workshops and payment arrangements.
How we look and how we feel has an impact on our success in all areas of life.
Feeling Good and Looking Fab! Whatever our Age.  As we get older many of us believe that we become less attractive, we lose confidence about our looks and start to believe we should tone down our image.
This is not true!  What is true is if we believe it, we won't be doing the best for ourselves.
I'm a great advocate of the self fulfilling prophecy that is, 'we get what we focus on'.  If you focus on the negative that's what you'll get.  The latest research into positive psychology is clear, that more than 20% negative thoughts will reduce our potential to be truly successful.  Do you feel positive and good about yourself?  If the answer is NO, this is the event for you.
If we feel confident in ourselves and how we look we can usually carry off anything.  It's a chicken and egg situation.  If we feel good we will feel confident and others will notice and compliment us on how we look.  If we feel unattractive and dowdy we hide ourselves so we beome invisible. There are lots of books about ageing and how to dress, and there's shops that will offer advice on how to look good.  What I know is that many of us get into a habit and assume that what has suited us before and looked good before, will go on doing so.  But we change – in weight, in skin tone and so on – and we shoud adapt as fashion adapts.  Remember that it is all about inside out.  If you are relaxed and exude confidence, everyone will be aware of your beauty.  Just soak this in and you'll feel a million dollars.
This 'Feel Good and Look Fab!' day, will give you the knowledge and skills you need to be the fantastic person you are on the inside and outside too.
Join Keren and guest speaker Sue at this lively, uplifting, informative and inspirational day.  It will really make a difference to how you feel about yourself.
Keren Smedley facilitates:
Everyday there is more information from neuroscientists about how our minds influence our bodies and vice versa.  I'll be looking at this link and how we can influence our feelings and ensure we feel positive and good about ourselves at all times, so we can be the successful person we are.
You will:
» Learn techniques and strategies to build inner confidence and build on your inner resources.
» Re-discover your beautiful body and how to focus on your assets.
» Practice accepting compliments and believing in them.
» Change the way you feel on the inside and see the outside change too.
» Feel confident about how you feel and how you look.
After this event you'll know you can achieve anything you want and make your looks work for you. You'll be amazed by how great you feel and look.
Guest Speaker – Sue Donnelly will be:
Looking at Style Personalities – Highlight, Hide, Harmonise Clothing is our body's most intimate environment yet most of us have a wardrobe of clothes that just don't bring us any joy. Our clothing represents who we are – what makes us truly unique – so it has to be authentic. Flattering the external is important but capturing your essence, your values and your individual essence in what you wear will ensure you have a wardrobe you love and that works for you on every level.
You will:
» Evaluate your essence – what makes you, you.
» Discover how to dress with confidence and gain clarity on the fabrics, colours and overall styling that fulfil you.
» Understand how your clothing can attract your dreams and desires.
» Learn how your own natural colouring creates harmony in all that you wear, from your underwear to your top coat.
» Gain clarity on why some of your clothes just aren't working for you.
Evening Course
Price includes refreshments.
One Day Course
Price includes refreshments.
Two Day Course
Price includes refreshments.
Comments from our recent workshop
Great to have a day to reflect and to work with like minded women.  Thank you Keren and Sue for making it comfortable and friendly, and very informative. Gill
Very grateful to the organisers for bringing a lovely group of women together who were all looking for guidance and positive feedback. A really great day, thank you. Avril
Keren Smedley, a leading personal and business coach, broadcaster and columnist, director of Experience Matters Ltd, and author of 'Who's That Woman in the Mirror? The Art of Ageing Gracefully', 'Who's That Sleeping in my Bed? The Art of Relationships for Grown-ups' and 'Live the Life you Love at 50+.  A handbook for career and life success'.

Sue Donnelly, is a Past President of the International Federation of Image Consultants and a qualified Image Coach on both sides of the Atlantic. Sue has the skills and the passion to help men and women present themselves in an authentic and positive way so they can achieve their individual goals.