Who's that sleeping in my bed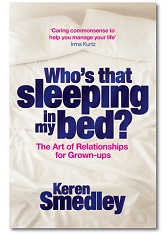 'Who's that sleeping in my bed?'
The Art of Sex and Successful Relationships for Baby Boomers
Daily Mail article (PDF – 3MB)
An excerpt from Keren's new book WHO'S THAT SLEEPING IN MY BED? The Art of Sex and Successful Relationships for Baby Boomers
INTRODUCTION
You may be wondering why another book on relationships. Surely there are enough! I probably would have thought that, too, if I hadn't received so many questions from baby boomers wondering how to manage this next stage of their life and confirming there was little or no specific information out there for them. This book is for all of us, men and women of all sexualities and whether in couples or single: the issues raised affect us all.
In my working life as a consultant and coach for Experience Matters as well as an agony aunt and relationship coach for Woman's Weekly, Saga and various radio stations, I've been struck by the variety of issues that affect people of our age and how important it is that we feel good in our relationships whether they're with lovers, family, friends or colleagues.
A belief that many of us hold is 'all you need is love' and then everything just falls into place. I wish it were as simple as that. From my experience, both personally and professionally, it takes a lot of hard work to maintain a relationship and to feel that you're growing and developing within it. However, it's true that, if our personal relationships are going well and we feel satisfied and self-confident, the rest of life seems more manageable.
Since the early 1900s, the number of people over 65 in the UK has grown by 10 times alongside a realistic expectation of a good life. Baby boomers are the first generation not predisposed to putting on their carpet slippers when they reach the age of 50 and sitting at home with a mug of cocoa waiting for life to pass us by. We have every chance of making it to 90. We're also the pioneers in developing ways to handle sex and relationships well, however old we might be. We were the ones, after all, who put sex on the map in the 60s!
The area of relationships is one that is of interest to all men and women single or in a couple, gay or straight. Recent research into the sex lives of baby boomers by both the University of Chicago (2006) and Parship.co.uk (2007) revealed that we're continuing to reap the benefit of the sexual revolution which began almost 50 years ago. We were the first generation to take the contraceptive pill, challenge marriage, campaign for women's rights, and gay rights, too, and continue to want to be considered sexual for as long as we wanted.
It's clear that being 50 does not mean you give up on sex and love. However, it does bring with it different challenges than those facing the next generation. Happily, men are increasingly more willing to discuss issues of the heart. Relate, the counselling, sex therapy and relationship education service, recently reported that there has been a 40 percent increase in the number of their male clients admitting they're no longer interested in sex and seeking advice because of the problems this is causing in their relationships.
It's easy when you get to 50 or 60 to be seduced by the media into believing that your days of heady sex and fun are over. As Joel Block points out in his book, 'Sex over 50′, sex may change as we get older but that's the good news! How many of us stumbled our way through our youth not sure what we were doing, feeling too shy to ask and assuming we should somehow know? Most, I expect. But here we are still healthy and, in spite of the odd creaky joint, not only still fit enough to enjoy good sex but confident enough, too, to ask for what we want. Women become more assertive as they age, less in need of reassurance from their partners and more able, therefore, to get their needs met. Men, by contrast, become more able to nurture and more comfortable with intimacy. Whether we're in the same relationship or a new one, these attributes will enable both men and women to enjoy sex to the full.
For all the fact though, that we're children of the 60s there are still many questions about sex we're too shy to ask. This book is emphatically not a sex manual so you won't find any advice on techniques (although the resource list does tell you where you can find that information). What it does contain, however, is many of the answers to things you may have wondered about while also, I hope, helping dispel concerns you might have had but which you've been too embarrassed to articulate in public.
We're not on the scrapheap at 50. Rather, most of us are keen to maintain our vitality and energy and want to take an active part in all aspects of our life, both in our personal relationships and in wider society. We may, due to the inevitable changes in our bodies, need to do this in a different way but with no less enthusiasm.
By this stage of our lives, we should have learnt a lot. For many, their love life will not have run as smoothly as they might have hoped and they will not be in the relationships they may have fantasised about when they were younger. The challenge is often greater if you're lesbian, gay, bisexual or transgender. Many of the issues are, of course, similar but often aren't discussed alongside those of heterosexuals. Figures released by the Office of National Statistics in 2008 revealed that the trend in long-term marriages ending in divorce shows no sign of abating and that the greatest percentage increase in failed marriages turn out to be of over 30 years' standing.
The consequence is that there are now more and more single individuals in their 50s and 60s either looking for a relationship or learning to be single again. There are an estimated 15 million singles now living in Britain (source: ONS 2006) of which just over half (a staggering 7.65 million men and women) are looking for a long-term relationship.
You may be in a long-term relationship needing the spark put back into it after years of chid rearing; you may be having to work out how to go it alone after a divorce or bereavement; you may be trying to find the strength needed to come out of an abusive relationship; you may even be coming to terms with a change in your own or your partner's sex preference or gender. Many of us feel we have to face up to our changed circumstances alone, trying to work out how to negotiate a path through the minefield because of the myth that, by this age and stage, we should know it all. But it's just not true.
Many of us also have to help adult children and elderly parents come to terms with the changes in their lives and their relationships. An unprecedented number of people in their 80s and 90s will need care and support from adult children who may well be going through significant life changes themselves. This group of 50+ men and women don't want to give up on romance and passion and dedicate the rest of their lives to simple pastimes, looking after their grandchildren, sometimes even supporting their children financially, rewarding though this can be.
Doing it differently from previous generations brings with it inevitable challenges. This book is based on questions asked of me by readers, listeners and clients and I hope will offer you the opportunity to solve your own dilemmas through the experience of others. The more we understand one another, the better our communication. We often have difficulties relating to people because we can't put ourselves in their shoes. By reading about a variety of situations and answering some questions about yourself, you'll be better placed to find solutions and more able to support your friends and family with their problems.
This book offers the 50+ answers to many of the questions that concern them and are rarely voiced. We are a generation who, in spite of flower power and free sex, carry many of our parents' inhibitions with us and find ourselves caught between two approaches for dealing with life. At times, we feel inhibited and guilty about airing our feelings; at others, we want to share our thoughts and experiences with anyone who will listen.
For more and more people, being 50 is literally to be middle-aged with years still ahead to enjoy fulfilling relationships with friends, partners, lovers and children. It's also a time when many will have to face the prospect of losing elderly parents, becoming the new older generation in the process.
I've divided the book into a number of different sections. That doesn't mean, of course, that certain types of problem only affect some people: problems tend not to be segregated by gender or sexuality. So don't limit yourself to just one section in the belief that your 'category' is unique. You'd be surprised at the area of overlap in lives apparently totally dissimilar from your own.
In the end, and whatever your situation, this book is for you.