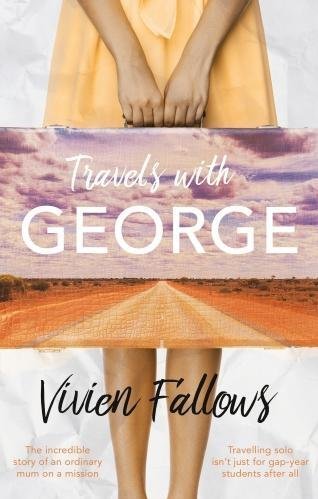 We are pleased to share with you an interesting article written specially for our website by the author Vivian Fallows, whose book – 'Travels with George', which has recently been published. So here goes…
In 2000, buoyed up by the enthusiastic global welcome given to the new millennium, my son decided that a belated gap year would be a good idea. Before I could mumble parental words of pecuniary caution, both he and his girlfriend had quit their jobs to set off on an around-the- world trip. Six months later the back-packing duo arrived in Sydney where, predictably, they ran out of money and, unpredictably, they found work and a base that would become home. To add to my woes, a second teary farewell followed when my daughter moved to Japan to pursue her teaching career. To compound this feeling of maternal loss, the disability charity I had been working for ceased to exist. I was now minus children, minus a job and seriously minus motivation.
'A trip to Sydney might cheer you up,' said my ever supportive husband, 'and keep a diary of your adventures.' Adventures! That gave my lethargy a welcome jolt. Funded by a piggy bank pension pot, my three week jaunt became seven. Accompanied by George, my trusty wheelie suitcase, I spent 24 hours in Los Angeles, snorkelled in the Cook Islands, sampled adrenalin-pumping activities in New Zealand and drove on and off the beaten track in Australia. Pushing boundaries, I regained my self-confidence and discovered that solo travelling was not just for gap year students. Eighteen months after my return the Australian outback beckoned once more. Packing a now rather grubby George, I headed off for a further adventure. On both trips, beer and muffins seemed to be the fuel which kept me going as I diligently obeyed my husband's instruction to 'keep writing'.
The writing did continue but after a lapse of several years, as my travels proved to be the perfect antidote to the feeling of inertia which had crept into my life. Returning home, I felt motivated to complete my degree studies with the Open University, I returned to the charity sector in a voluntary capacity and, having discovered the thrill of adrenalin-pumping activities, learnt to ride. The rash acquisition of a feisty Welsh pony helped fill the void left by absent children and kept me busy plucking brambles from various parts of my anatomy. Casper has a gentle side, keeping it hidden until called into service to entertain visiting Australian grandchildren.
Written in a mix of anecdote and fact with a scattering of quirky sketches, 'Travels with George' finally took shape earlier this year whilst I recovered from a hip replacement: George proved to be the perfect recuperative task. Having relished all that I had done, the book is "…dedicated to the legions of empty-nesters, whose children have packed their bags and headed off to explore life in far-flung towns, cities or countries. Now is the time to pack your bags and set out to enjoy your own adventure – whether you journey near or far, just do something different, push boundaries, scoop up some memories…and have fun."
A happy equilibrium has been restored to my life…but should the opportunity arise, I would shake the dust from George and again head south – there are dots aplenty on the Australian map I yearn to visit.
Vivien Fallows, 'Travels with George' published by The Book Guild £8.99 available from Amazon